Smoke alarm installation, repairs & testing
Don't put your family or employees at risk of fires. All Purpose Trade Solutions provides expert advice and face-to-face smoke alarm assessments throughout your home or business. Whatever your smoke alarm needs from assessment and hardwired installation to maintenance or replacement of your old smoke alarms our electricians have smoke alarm solutions to suit all requirements.
Book Smoke Alarm Service Today
Call us at 0485 869 495 or fill out the form and we will get in touch with you as soon as possible.
Important QLD smoke alarm legislation update
From 1 January 2017, the Queensland smoke alarm legislation will change to require all residences to be fitted with interconnected, photoelectric smoke alarm systems.
Smoke alarms must be located:

On each story
In all bedrooms
In hallways that connect bedrooms to the rest of the house
If there's no hallway, between bedrooms and other parts of the story
If there are no bedrooms on a story, at least one smoke alarm must be installed in the most likely path of travel to exit the home

All smoke alarms must be the photoelectric type.
Smoke alarms must be either hardwired to your home's mains power supply with a battery backup, or 10-year non-removable lithium battery powered alarms.
Smoke alarms are required to be interconnected with every smoke alarm in the dwelling so if one is triggered all activate together providing the best and earliest warning of a fire.
Interconnection can be either wired or wireless.
The updated legislation also states that every alarm replaced or installed from 1 January 2017 must be a photoelectric type smoke alarm.
Find out more about the new legislation and how it affects your home and situation, as well as compliance deadlines, here - qfes.qld.gov.au
Types of smoke alarms
There are two common types of smoke alarms and while both of them will keep you relatively safe and inform you of a fire it is important to understand how both of them operate.
Ionization smoke alarms: These types of alarms detect flaming fires which release millions of small and less visible fire particles which interfere with the electrical current that in turn causes the alarm to sound.
Photoelectric smoke alarms: These alarms detect smouldering fires which generally produce larger more visible fire particles which interfere with and reflect the alarm's light beam thus triggering the alarm to sound.
Please note - if you are upgrading or replacing either style of smoke alarm they must be replaced with photoelectric type alarms from 1 Jan 2017.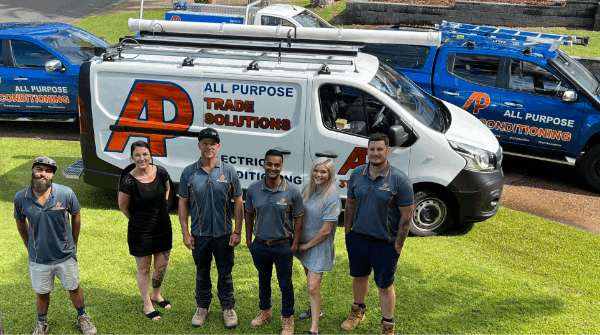 Why choose All Purpose Trade Solutions?
At All Purpose Trade Solutions we base our business on customer satisfaction, repeat clients and referrals. That's why we take our customer service so seriously. Our Service Guarantee is put in place to give you, the customer, the peace of mind to know that you are always going to be looked after.
Our Service Guarantee entails:
We will answer your calls. If for some reason we could not answer your call at that time, please leave a short message and your call will be returned in less than 30 minutes.
Our electricians will be on time. We always try our hardest to make it to every appointment on time, however, it is the nature of this industry for plenty of surprises to pop up, so if we ever are late, we will take $50 off the quoted price of the job.
The electrical safety of your home is always going to be of paramount importance.
We will only use quality products. All the products that we supply will be of the highest quality and be backed by a 12-month warranty.
We will clean up after every job and always leave your home the same way we found it, if not better.
The electrical work we do complies with all industry, state and Australian standards.
All of our work is backed by a limited lifetime warranty.
Your local smoke alarm specialists
Protect your family with a working smoke alarm system. Contact All Purpose Trade Solutions for upgrades, installation, repairs and testing at 07 3133 1681 or complete our online electrician booking form today.
Frequently Asked Questions about electrician