Local safety switch installation, repairs & testing
What is a safety switch? A safety switch is a device that automatically switches off the electricity in your home if leakage of the current is detected. Safety switches are designed to minimise the chance of electrical-related fires, electrical shock, injury, or in some extreme cases even death.
All Purpose Trade Solutions electricians offer safety switch installation, testing, and repairs throughout Brisbane, Logan, Gold Coast, Moreton Bay and Sunshine Coast regions.
Book Safety Switch Service Today
Call us at 0485 869 495 or fill out the form and we will get in touch with you as soon as possible.
Are safety switches legally required?
Yes, it is a legal requirement for domestic residences rented in Queensland to have at least one safety switch fitted after a tenancy agreement is signed. This is the responsibility of the property owner if one is not already installed. Landlords who fail to comply may be fined up to $1,500.
Important: Tenants are urged to contact their real estate agent or landlord directly if their residence doesn't have a safety switch on at least the power circuits. This is so that the landlord is notified and can arrange to have one fitted. Homes built from 1992 onwards are required to have a safety switch on all power points and since 2000 on lighting circuits also.
My safety switch keeps tripping is it broken?
No, if your safety switch is frequently tripping this is a good sign that your safety switch is far from broken as it is doing its job. If it was broken it wouldn't be tripping at all and then you would be in a world of trouble.
The problem that you now face is that there is something in your house that is causing the safety switch to trip. To try to find the issue unplug everything in your house (including - the fridge, stove top, oven, hairdryer, everything) now turn on your safety switch and plug in your appliances one by one. If you plug something in and it trips the power you have just found your problem.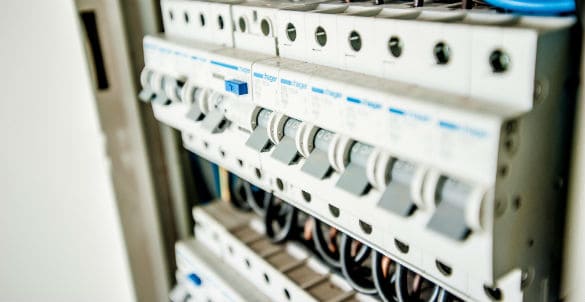 Other reasons for safety switch tripping
It isn't always an appliance's fault as to why your safety switch is tripping. Sometimes it can be a result of something external like an outdoor power point that has over time become a home to insects that have worn away the wire insulation.
After heavy downpours water can sometimes find its way into outdoor light fixtures. It could even be from a lightning strike that has hit and sent a surge through the lines to your home.
There are lots of reasons why your safety switch could be tripping. When all else fails you can also call in a nAll Purpose Trade Solutions electrician to diagnose the problem and suggest a solution to suit your needs.
Why choose All Purpose Trade Solutions?
At All Purpose Trade Solutions we base our business on customer satisfaction, repeat clients and referrals. That's why we take our customer service so seriously. Our Service Guarantee is put in place to give you, the customer, the peace of mind to know that you are always going to be looked after.
Our service guarantee entails:
We will answer your calls. If for some reason we could not answer your call at that time, please leave a short message and your call will be returned in less than 30 minutes.
We will be on time. We always try our hardest to make it to every appointment on time, however, it is the nature of this industry for plenty of surprises to pop up, so if we ever are late, we will take $50 off the quoted price of the job.
The electrical safety of your home is always going to be of paramount importance. Every job we do, big or small, includes a complimentary visual safety inspection, to make sure you and your family are safe.
We will only use quality products. All the products that we supply will be of the highest quality and be backed by a 12-month warranty.
We will clean up after every job and always leave your home the same way we found it, if not better.
The electrical work we do complies with all industry, state and Australian standards and we carry out mandatory testing on every job to ensure it's electrically safe. All our work is backed by a limited lifetime warranty.
Your local RCD and safety switch experts
Contact All Purpose Trade Solutions for all your RCD and electrical safety switch installation, repairs and testing in Brisbane. Schedule an electrician now by calling 07 3133 1681 or complete our online electrician booking form today.
Frequently Asked Questions about electrician