Security lights for homes and businesses
All Purpose Trade Solutions are your local security lighting experts, offering the installation, repairs and testing of security and exit lights around your Brisbane home or business. Our team can design a detailed customised plan and layout to suit your property's security lighting requirements. Our electricians use high-quality LED security lights, controlled by a switch or motion detection.
Book Security Lighting Today
Call us at 0485 869 495 or fill out the form and we will get in touch with you as soon as possible.
Benefits of security lighting
Security sensor lighting provides a cost-effective safety measure for your home or business. As they only turn on when movement is detected the lights cost very little to run. They can also be a great way to help you and the family to find the way to the front door, and around your property at night.
Security lighting is also a deterrent for would-be thieves. Sensor lighting, as well as surveillance cameras and alarm systems, can reduce your home and contents insurance in some instances.
Did you know: Homes with effective security lighting are less likely to be broken into due the fact people who break into homes prefer to work in the cover of darkness.
What to look for in LED security lights?
Any light is better than no light at all, but there are a few important factors to consider when you're looking at security lighting.
How far from the fixture will it light up your property?
What type of lighting to use?
What type of light works best to light the areas you want?
Our
electricians
can help with expert advice on choosing the right lights for your property.
Targeted outdoor lighting
You don't necessarily need to light up your entire yard. You may find you only need to light up your front porch. The lumens (or brightness) of your lighting should vary depending on where it is located.
The light above your front door should illuminate the porch and possibly some of the garden or path. Note that each bulb is rated by the number of lumens they produce. The more lumens a bulb has means the more light it produces.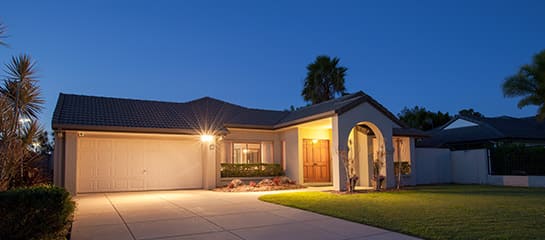 Setting the motion sensor
When having your security lighting installed you also have to factor in how far away from the motion sensor will it stop picking up movement. The ideal motion sensor range for an open area security light is at least 40 feet. This is to ensure your lights won't come on when your neighbours are putting out their bins.
Why choose All Purpose Trade Solutions?
At All Purpose Trade Solutions, we base our business on customer satisfaction, repeat clients and referrals. That's why we take our customer service so seriously. Our Service Guarantee is put in place to give you, the customer, the peace of mind to know that you are always going to be looked after.
Our service guarantee entails:
We will answer your calls. If we can not respond to your call, please leave a message and your call will be returned in less than 30 minutes.
Our electricians will be on time. If we ever are late, we will take $50 off the quoted price of the job.
The electrical safety of your home is always going to be of paramount importance.
We will only use quality products. All our products will be of the highest quality and be backed by a 12-month warranty.
We will clean up after every job and always leave your home the same way we found it, if not better.
The electrical work we do complies with all industry, state and Australian standards.
All of our electrical work is backed by a limited lifetime warranty.
Your local lighting specialists
For the very best in security lighting installation, repairs and maintenance contact All Purpose Trade Solutions at 07 3133 1681 or complete our online electrician booking form today.
Frequently Asked Questions about electrician