Supply, Installation & Repairs Ducted & Split System Air Conditioning
All Purpose Trade Solutions are proud to offer a superior service for all your residential and commercial air conditioning needs. We know how important it is to have a comfortable home or office, especially during the sweltering Queensland summer. We offer a wide range of air conditioners from top brands like Fujitsu, Daikin and Mitsubishi to suit your needs.
Our HVAC technicians are highly trained and have the experience and knowledge to deal with all aspects of air conditioners, including installation, maintenance, repairs, and replacements. We can provide residential and commercial air conditioning service to make your indoor space cool, refreshing, suited to your requirements.
All Purpose Trade Solutions offer reliable air conditioning services across Brisbane, Gold Coast, Redlands, Logan, Moreton Bay and Sunshine Coast.
Book Air Conditioning Today
Call us at 0485 869 495 or fill out the form and we will get in touch with you as soon as possible.
Design, Supply & Installation Ducted Air Conditioning SE Queensland
All Purpose Trade Solutions are specialists in the design and supply of ducted air conditioners in Brisbane and surrounding areas. The ducted air conditioner is a cost effective and seamless way to cool multiple rooms in your home or business.
Our air conditioning experts will work with you closely to determine your cooling requirements and create a custom design ducted system which maximises comfort and efficiency. Our extensive knowledge of the industry and our partnerships with leading air conditioner manufacturers allow us to provide high quality equipment that meets your budget and preferences.
The installation will be carried out by our HVAC technicians with professionalism and precision, ensuring your ducted system runs flawlessly. Our top of the line ducted cooling solutions are tailored to meet your specific needs.
Split System Air Con Installation Brisbane
All Purpose Trade Solutions offer split system air conditioner installations across Brisbane, Logan, Gold Coast, Redlands, Moreton Bay & Sunshine Coast. Split system air conditioners are a cost effective and versatile cooling solution that can be used in smaller rooms.
Our technicians are highly trained and experienced in split system installation. This ensures a smooth and efficient process. Our HVAC specialists take into consideration your cooling needs, the layout of the room, and the aesthetics to determine the best placement and configuration for the indoor and outdoor unit. You can rely on us to handle the installation professionally and with expertise, as we pay attention to every detail and are committed to quality.
We have the expertise and resources necessary to provide exceptional results, whether you are looking for a split system air conditioner in your home, commercial space or office. All Purpose Trade Solutions can provide you with the comfort and convenience that comes from a split system air conditioner installed perfectly.
Air Conditioning Repairs & Maintenance
All Purpose Trade Solutions understands the importance of timely maintenance and repairs to keep your system running optimally. Our team of highly skilled technicians is capable of diagnosing and solving a variety of air conditioning problems.
We can identify the cause of any problem, whether it is a lack of cooling, strange noises or poor airflow. Our comprehensive maintenance service includes thorough inspections and cleanings as well as tune-ups. This ensures that your system is operating at its peak performance and efficiency. If your air conditioner needs repairs, we use the latest tools and genuine parts to restore functionality. This will extend the life of your unit.
We are proud of our fast and reliable service. This ensures that your comfort is restored quickly and efficiently. All Purpose Trade Solutions is the company to call for any air conditioning repairs and maintenance. We will keep your system running smoothly and efficiently for many years.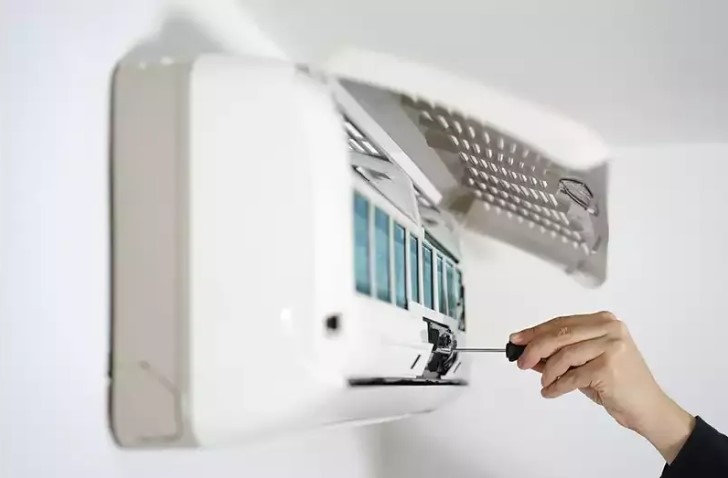 Signs Your Air Conditioner Needs a Service
There are several signs that indicate the need for an air conditioning service. Recognising these signs early can help prevent further damage and ensure your system operates efficiently. Here are some common indicators that you may need an air con service:
Insufficient Cooling
If you notice that your air conditioner is no longer cooling your space effectively or there are noticeable temperature differences between rooms, it could indicate a problem with the system that requires attention.
Weak Airflow
If you feel weak or reduced airflow coming from your vents, it could be a sign of a clogged or damaged air filter, blocked ducts, or issues with the fan or blower motor. A professional service can identify and address the underlying cause.
Unusual Noises
Strange or loud noises such as grinding, rattling, or squealing coming from your air conditioning unit may indicate loose or worn-out parts that need to be repaired or replaced.
Foul Odours
Unpleasant smells emitted from your air conditioner could be a result of mold or mildew growth within the system or a sign of a malfunctioning component. It's essential to have it inspected and cleaned to ensure healthy indoor air quality.
Increased Energy Bills
If your energy bills have spiked unexpectedly, it could be due to an inefficient air conditioning system. Regular maintenance and service can optimise its performance and help reduce energy consumption.
Frequent Cycling
If your air conditioner frequently turns on and off (short cycling), it may be struggling to maintain a consistent temperature. This can be caused by various issues that require professional attention.
Leaks or Moisture
Any signs of water leaks or excessive condensation around your air conditioning unit should be addressed promptly. It could be a sign of refrigerant leaks, blocked drain lines, or other issues that can impact the performance and integrity of your system.
If you notice any of these signs, it's recommended to schedule an air con service with a qualified technician. They can assess the problem, perform necessary repairs or maintenance, and ensure your air conditioning system is functioning optimally.
Air Conditioning Types We Supply & Install
At All Purpose Trade Solutions, we offer a wide range of air conditioning options to meet the diverse needs and preferences of our customers in Brisbane. Our skilled team specialises in the supply and installation of the following types of air conditioning systems:
Split System Air Conditioning
Split systems are an excellent choice for cooling individual rooms or small spaces. They consist of an indoor unit that blows cool air into the room and an outdoor unit that dissipates heat. Split systems are known for their energy efficiency, quiet operation, and flexibility in terms of installation options.
Ducted Air Conditioning
Ducted air conditioning provides a comprehensive cooling solution for larger areas or multiple rooms. This system utilises a network of ducts concealed within the walls or ceilings to distribute cool air throughout the space. Ducted systems offer excellent climate control, enabling you to create different temperature zones and adjust airflow as per your preferences.
Multi Split Air Conditioners
Multi split systems are ideal for cooling multiple rooms or areas with different cooling requirements. They consist of multiple indoor units connected to a single outdoor unit, allowing you to independently control the temperature in each room. Multi split systems provide flexibility, energy efficiency, and individualised comfort.
Reverse Cycle Air Conditioning
Reverse cycle air conditioners offer both cooling and heating capabilities, making them suitable for comfort all year round. With the ability to switch between cooling and heating modes, they provide efficient climate control regardless of the season.
All Purpose Trade Solutions are proud to offer air conditioning systems of the highest quality from trusted brands. Our team of aircon technicians will evaluate your needs, provide expert advice and recommend the best system to suit your requirements. Our priority is customer satisfaction. We ensure that all installations are performed with precision and care, ensuring optimal performance and reliability over the long term.
Commercial Air Conditioning
All Purpose Trade Solutions, your local partner in commercial air conditioning Brisbane. We are experts in the design, installation, upgrade, and maintenance of commercial air conditioning systems.
Our experts work closely with you and your team to ensure that the performance and energy efficiency of commercial spaces is optimised. We provide comprehensive services that are tailored to meet your needs. These include system design, installation, retrofits and upgrades, maintenance, repairs and energy efficiency solutions.
We create productive and comfortable environments for companies in a variety of industries with our experience and commitment to excellence. All Purpose Trade Solutions provides reliable and efficient commercial cooling solutions in Brisbane and surrounding areas.
Supply & Installation of Market Leading Brands Aircon
Our technicians are experts in working with all leading brands of air conditioners, including, but not limited to:

Why choose All Purpose Trade Solutions?
At All Purpose Trade Solutions, we pride ourselves on our professionalism, attention to detail, and commitment to delivering you high quality air conditioning services.
Whether you need installation, maintenance, repairs, or energy efficiency solutions, we have the expertise and experience to meet your aircon requirements. Trust our reliable and efficient air conditioning solutions.
Your local air conditioning specialists Brisbane
For air conditioning supply, installation, repairs and maintenance, give us a call at 07 3133 1681 or complete our online enquiry form and our friendly staff will be more than happy to help.
Frequently Asked Questions about air-conditioning