Redland Air Conditioning Specialist
We are your one-stop shop for all your air conditioning needs; whether you require installation, repair and servicing, split system air conditioners, or ducted air conditioning. Our highly qualified and experienced team is here to ensure that you can keep your home cool and comfortable using the latest air conditioning technology.
Not only do we provide Redland air conditioning installation services, but we also provide regular servicing and maintenance, as well as emergency repairs. We supply and install split system air conditioners for both residential and commercial properties, as well as complete ducted air conditioning to create your perfect climate-controlled environment, all year round.
We strive to deliver the most reliable and efficient service to ensure your air conditioning systems perform to their best for years to come. So, for all your air conditioning Redlands, look no further than All Purpose Trade Solutions!
Air Conditioning Systems Redland
Split System Air Conditioner Redland
Split system air conditioning is the perfect choice for keeping your home or work space comfortable all year round. Our selection of split system air conditioners provide a range of benefits to ensure that you get the most out of your air con unit.
With energy savings, improved indoor air quality, quiet operation, flexibility and versatility, split system air conditioners are the most efficient choice for regulated air conditioning. Our high quality split system air con units are designed to keep your home or office cool in summer and warm in winter and our qualified HVAC technicians can easily install them to suit your individual needs. Get in touch with us today and find out how a split system air conditioner installation can help you save money and enjoy a more comfortable living environment.
Ducted Air Conditioning Redland
Ducted air conditioning is the ideal climate control choice for your Redland home or business, offering efficient cooling and heating to create a comfortable environment. With specially designed zoned areas, you can customise the temperature of your home on a room-by-room basis.
The ducted air conditioning system is installed discreetly in the roof cavity to provide an aesthetically pleasing finish. All Purpose Trade Solutions have extensive experience in the installation, repair and servicing of ducted air con systems, allowing you to enjoy the ultimate in climate control. We're here to help you make your home comfortable; contact us today to discuss your ducted air conditioning needs.
Our team are also on hand for the best in air conditioning services Redland, and happy to help, or provide advice, on ducted air conditioning for your property.
Air Conditioning Service Redland
Keeping your air conditioner regularly serviced is essential for your home comfort and wellbeing, and with the Redland air conditioning servicing from All Purpose Trade Solutions, that job is both affordable and efficient!
Our technicians inspect and test all components of your air con system, and with regular maintenance servicing, you can ensure that the system is performing at its best. Not only does this give you peace of mind knowing you can avoid cost repairs in the future, it also helps maintain optimal air quality throughout your property. So don't delay, contact All Purpose Trade Solutions today for professional air conditioning service.
Air Conditioning Cleaning Redland
It's time to ensure your air con unit performs at its best; quality air strictly comes down to its regular cleaning. Air conditioning cleaning is a must if you want to reduce your air con system's energy output and this is an easy way to lower your power bills.
Cleaning not only cleans away dust and allergens but cleans and sanitises every component of your air conditioner. Reaching deep into the cavities of the air con unit to scrub away dirt that builds up on the filters and coils, improves your cooling and increase your system's lifespan.
Our air conditioning cleaning professionals strive to help you maintain the best air quality for your space while saving energy, so don't put off this important job for another day. Book your air conditioning cleaning Redland today!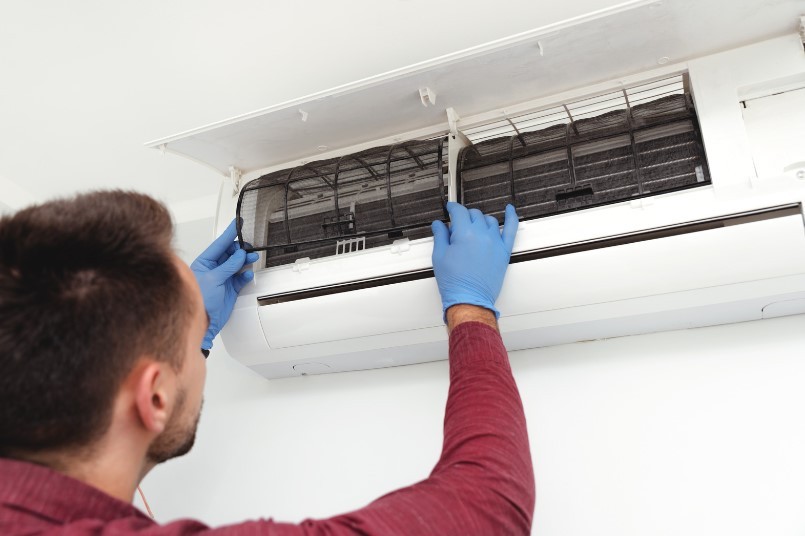 Air Conditioning Installation Redland
If you're looking for reliable air conditioning installation Redlands, you can't go wrong with All Purpose Trade Solutions. Whether you're considering split system air con or ducted air conditioning installation, our experienced team are with all aspects of air conditioning installation to ensure you get the best installation Redland has to offer!
Experienced with all major brands, we have the experience to help you choose the best energy saving and cost effective air conditioning system for your home or business property.
We are dedicated to providing a quality job that you can depend on for years to come, making us a top choice for air conditioning install Redlands.
Air Conditioning Repairs Redland
At All Purpose Trade Solutions we understand that air conditioning repairs Redland should be carried out quickly and efficiently. Our HVAC technicians are all professionally trained and certified to carry out comprehensive regas and repairs on all major makes and models of air conditioners.
By using the latest diagnostic tools available, our experienced team can quickly identify, diagnose and repair air conditioning issues in no time at all! With years of experience, all of our work is guaranteed and performed to the highest industry standards. So if you need fast and reliable air conditioning repairs Redland, you can trust in the team at All Purpose Trade Solutions.
Air Conditioners
Our expert aircon technicians have experience installing, servicing, cleaning and repairing all main air conditioning brands including:
Mitsubishi Air Conditioning
LG Air Conditioner
Samsung Air Conditioners
What benefits do All Purpose Trade Solutions offer to Redland?
At All Purpose Trade Solutions, we base our business on customer satisfaction, repeat clients and referrals. That's why we take our customer service so seriously. Our Service Guarantee is put in place to give you, the customer, the peace of mind to know that you are always going to be looked after. Our Service Guarantee entails:
On-Time: We will be on time! We always try our hardest to make it to every appointment on time, however, it is the nature of this industry for plenty of surprises to pop up, so if we ever are late, we will take $50 off the quoted price of the job.
Safety: The electrical safety of your home is always going to be of paramount importance. Every job we do, big or small, includes a complimentary visual safety inspection, to make sure you and your family are safe.
Quality: We will only use quality products! All the products that we supply will be of the highest quality and be backed by a 12-month warranty.
Telephone Calls: We will answer your calls! If for some reason we could not answer your call at that time, please leave a short message and your call will be returned in less than 30 minutes.
Clean: We will clean up after every job and always leave your home the same way we found it, if not better!
Australian Standards: The electrical work we do complies with all Australian standards and we undertake all mandatory testing requirements on every job where it is necessary.
Lifetime Warranty: With all of our work comes a limited lifetime warranty.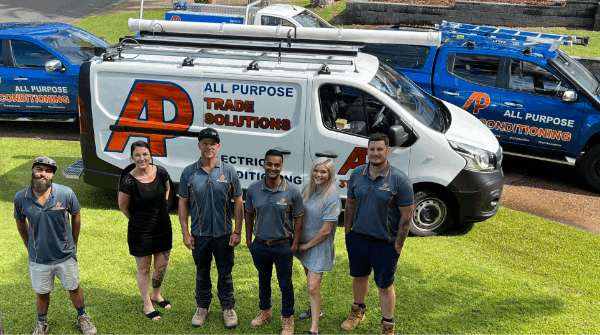 Local Air Conditioning Redland Bay Expert
If you would like to know a little more regarding the services and options that All Purpose Trade Solutions offer across Redland or would like to speak to one of our qualified team members regarding another electrical issue that you may have, give us a call on 07 3133 1681 or complete an online job booking form today. We are the local aircon technicians you can count on
Looking for more than a Air Conditioning in Redland?
We provide additional services in Redland such as Electrician,
Frequently Asked Questions about Air Conditioning experts
Suburbs our Air Conditioning experts Service in Redland
Wellington Point
Victoria Point
Thornlands
Thorneside
Sheldon
Ormiston
Mount Cotton
Cleveland
Capalaba
Birkdale
Alexandra Hills
Redland Bay