Looking for practical, effective outdoor lighting solutions?
Illuminate your outdoor space with our expert lighting services. All Purpose Trade Solutions offers complete outdoor lighting services including installation, design, and repairs. We have a team of experienced electricians who can help you achieve the perfect look for your home or business.
With our help, you can transform your outdoor space into a beautiful and inviting area that you can enjoy day or night. We offer a wide range of lighting options to choose from, so you're sure to find the perfect fit for your needs.
Contact All Purpose Trade Solutions today to learn more about our outdoor lighting services.
Book Outdoor Lighting Service Today
Call us at 0485 869 495 or fill out the form and we will get in touch with you as soon as possible.
We can all agree that Australia has one of the best climates in the world, so it makes sense to get outside to make the most of it. Spending more time outside has certainly become a big part of our Aussie lifestyle, and has opened up a new world of outdoor living. With more families spending time outside, either to enjoy a family dinner, the typical Aussie BBQ or to entertain friends, you need a space that is inviting and comfortable.
We guarantee your lights will be installed and on in no time so you can enjoy and feel safe in your backyard or patio area.
Our team of qualified electricians can help you bring your outdoor area alive and expand the areas of your property so you can fully utilise them at night. An added bonus of suitable outdoor security lighting is it also assists in preventing unwelcome visitors on your property and increases your security and safety.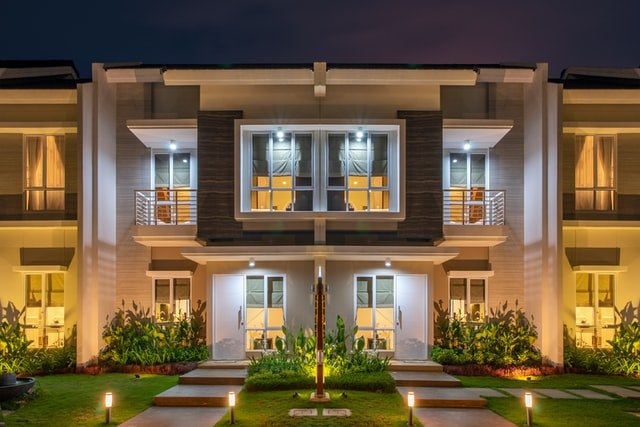 Comprehensive lighting for outdoors
All Purpose Trade Solutions can provide specific recommendations for the best lighting system for your property depending on the nature of the lights you are wanting to be installed, and the overall lighting effect you are hoping to create.
We guarantee your outdoor area with its beautiful lights will be the talk of your friends and neighbours.
So if it's garden lighting, sensor lights, security lighting, emergency lighting or flood lighting you require, All Purpose Trade Solutions have you covered. We will customise your lights so you will achieve the look and effect you desire.
We provide a wide range of services that include but are not limited to, the installation of home lighting, commercial lighting, private streetlights, park lights, and industrial lighting. Just speak to one of our experienced electricians to discuss your lighting requirements. No matter how big or small the job at hand, we are here to assist.
Why do LEDs work well outside?
LEDs (light-emitting diodes) have provided us with new and extremely effective technology in lighting. LEDs are undoubtedly the best choice for outdoor and night lighting, for numerous reasons.
They not only provide bright continuous light, but they are also aesthetically pleasing and have the added bonus of providing a safety element to your property.
Longer life
Brighter light
Energy saving
Instantly on
Durability
Flexibility
Great reasons to use All Purpose Trade Solutions for your outdoor lighting needs
We'll call to let you know we are on the way. No waiting around for tradespeople
Our electricians are fully licenced and insured.
Our team has years of experience, ensuring every customer gets the most practical, cost-effective, and efficient solution.
Our workmanship is 100% guaranteed

Your local outdoor lighting specialists
All Purpose Trade Solutions your outdoor lighting specialists offer obligation-free quotes and guarantee all our workmanship servicing Brisbane, Gold Coast, Logan and Redland Bay. Contact one of our team today at 07 3133 1681.
Frequently Asked Questions about electrician