Energy-efficient ceiling fan installation & repairs
All Purpose Trade Solutions offers prompt, professional ceiling fan installation across Brisbane and surrounding suburbs. If you're looking for an easy, environmentally friendly and cost-effective way to cool down then speak to us today about installing ceiling fans in your home. Not only can ceiling fans help reduce the temperature in a room by up to 4 degrees but they can increase the efficiency of your air conditioning saving you money. Ceiling fans can also double as great feature pieces in a room and can increase the value of your home.
Book Ceiling Fan Installation Today
Call us at 0485 869 495 or fill out the form and we will get in touch with you as soon as possible.
How does a ceiling fan cool the room?
We're all guilty of running the ceiling fan on a hot day to try and reduce the temperature of the room however your ceiling fan doesn't directly cool the air all by itself.
A ceiling fan just helps to circulate the cool air better which is what brings the temperature down faster. It can also create a breeze effect that makes the room feel cooler than it actually is too.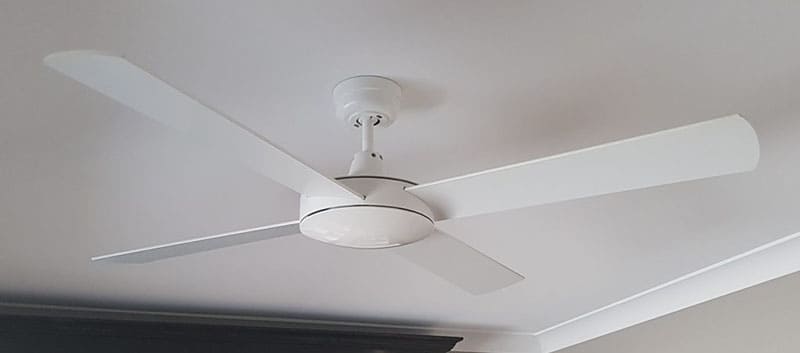 Ceiling Fan Safety Tips
Be sure that they are turned off if you aren't home
Be mindful of the fan while it is turned on (never throw things in the air or jump on the bed while it is spinning)
Never hang things from a ceiling fan (They aren't designed to be load-bearing)
You can install a safety guard on your ceiling fans for an extra precaution
Ceiling Fan Maintenance Tips
Keeping your ceiling fan clean will ensure maximum performance and lifespan. Here are some easy steps you can follow at home to make sure your fan is in good working order:
Make sure to clean any dust or dirt that is gathered on the ceiling fan blades (while it is turned off) this can be done with a brush or a rag
Ensure you tighten any loose screws which can be found on the fan itself, on the plate that attaches the fan to the ceiling or any screws on the light fixtures on your fan
Check to see if your fan needs oil if it is not self-maintaining. This can be done by adding oil to the oil hole near the motor however most fans are self-lubricating.
Make sure your fan is not wobbling or shaking, as this means it may need to be balanced or one of the blades may be damaged or warped
Summer vs winter ceiling fan settings
Most ceiling fans can be used all year round as they come with a winter/summer setting. The difference between the settings are:
Summer ceiling fan setting: The fan blades spin in a counterclockwise direction which circulates the air and disperses the breeze to the edges of the room. This makes you feel cooler quicker and it feels like the room temperature lowers.
Winter ceiling fan setting: In this setting, the fan blades spin clockwise which forces all the warm air that is trapped above the fan and along the ceiling down into the room to mix with the cooler air. To achieve the best results you should keep your fan on low speed in this setting during winter.
Why choose All Purpose Trade Solutions to install your ceiling fan?
At All Purpose Trade Solutions we base our business on customer satisfaction, repeat clients and referrals. That's why we take our customer service so seriously. Our Service Guarantee is put in place to give you, the customer, the peace of mind to know that you are always going to be looked after.
Our electrical service guarantee entails:
We will answer your calls! If for some reason we could not answer your call at that time, please leave a short message and your call will be returned in less than 30 minutes.
We will be on time! We always try our hardest to make it to every appointment on time, however, it is the nature of this industry for plenty of surprises to pop up, so if we ever are late, we will take $50 off the quoted price of the job.
The Electrical Safety of your home is always going to be of paramount importance. Every job we do, big or small, includes a complimentary visual safety inspection, to make sure you and your family are safe.
We will only use quality products! All the products that we supply will be of the highest quality and be backed by a 12-month warranty.
We will clean up after every job and always leave your home the same way we found it, if not better!
The electrical work we do complies with all Australian standards and we undertake all mandatory testing requirements on every job where it is necessary. With all of our work comes a limited lifetime warranty.
If you would like to have a professional electrician install your ceiling fans at your home or business contact our team on 07 3133 1681 or fill in our online electrician booking form today.
Frequently Asked Questions about electrician