Split system air conditioner installation, repairs & service
All Purpose Trade Solutions provides top quality split system air conditioner supply and installation throughout Brisbane. We work with a range of major air conditioning brands including Mitsubishi Electric, Mitsubishi Heavy Industries, Daikin, Fujitsu and more. Our experienced electricians will ensure your split system air con is energy efficient and the right size for your room.
Book Split System Service Today
Call us at 0485 869 495 or fill out the form and we will get in touch with you as soon as possible.
Benefits of split system air conditioning
There is a split system air conditioner for just about any application, from a small apartment to a full home cooling and heating system. Single and multi-split air conditioning units can be installed almost anywhere.
Inverter technology provides energy-efficient, consistent climate control.
Reverse cycle inverter models offer both cooling in summer and warmth in winter for year round comfort.
Ultra-quiet operation from the wall-mounted indoor unit - making it ideal for use in sleeping areas.
The outdoor compressor unit can be located on a balcony, wall bracket, or tucked away in the garden.
Some models offer Wi-Fi control allowing you to turn the air con on to cool or warm the house before you get home.
Advanced filtration systems ensure the air in your home is free of dust, pollen, and bad odours.
A reverse cycle air conditioner is cheaper to install and maintain than ducted air conditioning
Split system installation service
Looking to upgrade your old air con or add a new split system to your home or business? Our team can help. Our experienced team can provide expert advice to ensure the air conditioner you choose is the perfect size for the area you wish to cool or heat.
This is vital as a unit which is too small will need to work overtime to keep the desired temperature and a unit which is too large will waste unnecessary power.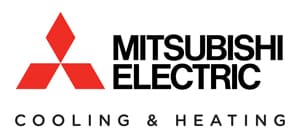 We offer the supply and installation of Mitsubishi Electric and MHIAA air conditioners. All Purpose Trade Solutions air con technicians can also install a large selection of air conditioners from other leading brands such as Daikin, Fujitsu, Panasonic, and Carrier.
Split system air conditioner service in Brisbane
All Purpose Trade Solutions can take care of all your split system air conditioner service needs across Brisbane contact our team on 07 3133 1681 or complete our quick online booking request today.
Frequently Asked Questions about air-conditioning