Gree air conditioning installation, repairs & service
Looking for the installation of a Gree air conditioner? Then look no further than All Purpose Trade Solutions. All Purpose Trade Solutions can help with the supply and installation of residential and commercial Gree air conditioning systems. We have installed countless split systems or ducted air con systems for Brisbane households and businesses. And we can help you too!
If you are looking for the installation of a Gree aircon system in Brisbane, Gold Coast, Logan or the Sunshine Coast, All Purpose Trade Solutions has got you covered. Request a no-obligation quote for a Gree aircon.
BOOK GREE AIRCON INSTALLATION
Call us at 0485 869 495 or fill out the form and we will get in touch with you as soon as possible.
Gree Air Conditioning Brisbane
Established in 1991, the Chinese company manufactures air conditioners and household appliances. It is the world's largest residential air conditioner manufacturer. Some of the benefits of choosing a Gree AC system include:
Energy-efficient models with low operating costs
Intelligent sleep function which adjusts to your sleep
Protection from external
Low noise
Designed for harsh Australian weather
Fitted with Demand Response Enabling Device (DRED) so your energy provider can reduce the power consumption of your aircon is using during peak times

Split System Aircon Installation Brisbane
Split systems are highly energy-efficient, versatile and quiet units. They are available in various sizes and options like wall-mounted, floor-mounted and cassette. We provide installation for all models of split systems offered by Gree:
Bora Hi-wall Air Conditioner
Lomo Hi-wall Air conditioner (Heat Pump)
Hyper Hi-wall Inverter Air Conditioner (Heat Pump)
Freematch Multi-Head
Need help choosing the right aircon? Our air conditioning experts can assess your requirements, conduct an onsite inspection and recommend the unit suitable for your premises.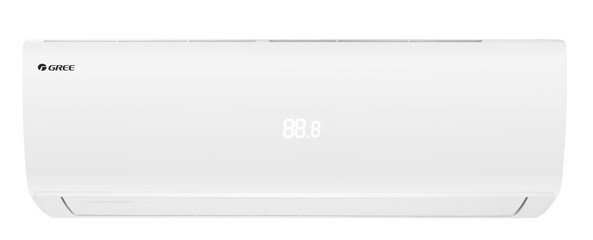 Gree ducted air conditioning installation
All Purpose supply and install top quality Gree ducted air conditioning systems for your home or business. Gree Electric ensures that homes and businesses across the globe are cool, comfortable, and efficient with its advanced air conditioning systems. With more than 400 million users worldwide trusting Gree Electric for their air con needs, it's no surprise that one in three units produced is a Gree unit.
Gree's ducted aircon is compact and yet powerful for discreet cooling and heating for your entire home or business. Their ducted system comes in a range of 8 sizes from 5.3kW - 24kW so we will be able to find the perfect sized system for your needs. Features include:
Save approximately 20% more power per year with Gree's G10 inverter tech
Zoning control for up to 8 zones
Very quiet operation
Slim indoor unit offering increased flexibility and discretion
Fast heating and cooling
WIFI compatible
Adjustable external static pressure

Why choose us as your Gree aircon installers?
At All Purpose Trade Solutions, we base our business on customer satisfaction, repeat clients and referrals
We strive to build a great relationship with our customers
We are fully trained and qualified to carry out installations of split and ducted air conditioners
All our work comes with a customer service guarantee so you have complete peace of mind knowing you are in safe hands
We clean up after our job and leave your home in immaculate condition


Your Local Gree Air Conditioning Specialists
All Purpose Trade Solutions is your trusted air conditioning installer throughout Brisbane. If you need more information on Gree air conditioners or need an aircon system installed, get in contact with us at 1300 370 455 or complete our online enquiry form.
Frequently Asked Questions about air-conditioning