Looking for exceptional air conditioning services Brisbane South?
Why not experience the convenience of All Purpose Trade Solutions which are just a phone call away? Our team of air conditioning experts have years of experience in the air conditioning industry, we possess the knowledge to recommend the perfect air conditioning system, to meet your individual requirements and budget. Whether you need a modest 2.0kW unit designed for a compact studio apartment, or a more substantial 9.0kW commercial unit essential for your business, we have every aspect covered. We specialise in finding the perfect climate control solution for your specific requirements ensuring a long-lasting, energy-efficient result every time.
Our services include supply, installation, repair, and maintenance for all renowned AC brands. When you install an AC unit it not only provides you with a comfortable indoor temperature but also contributes to the following:
Lowers pollen, mould, mildew, and other airborne outdoor allergens
Reduce the risk of dehydration and heat stroke
Improve air quality
Humidity level control
Reduce asthma attacks
Assists in alleviating allergies
Improved sleep quality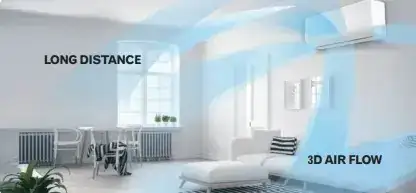 Air Conditioner Installations Brisbane South
Did you know having your air conditioner installed in the cooler months will not only get you your new air conditioning unit faster, but when the hotter months come back you can be relaxing in your climate-controlled home or office before the summer rush happens? Our industry-leading air conditioning installers provide a prompt and efficient installation service for residential and commercial applications. If you are in the market for a new AC unit it's advisable to take into consideration the dimensions of the area you wish to cool or heat, your energy efficiency concerns installation requirements, and budget constraints. All these factors will assist you with choosing the most suitable air conditioning system for your property.
Air Conditioner Repairs Brisbane South
When your AC is not working to its full potential the team at All Purpose Trade Solutions are ready to assist and get your system back to optimal working order. Whether it's not cooling or heating, turning on, or frequent cycling. Our technicians understand how frustrating it can be so we provide practical solutions and prompt repair options to suit almost any budget.
Air Conditioner Service South Brisbane
If your aircon hasn't had a service recently, it's likely to not be working efficiently, best practice is not to wait until your air conditioning system starts playing up or, worse, stops working. Why not schedule All Purpose Trade Solutions to conduct your next service and we will make sure your AC is working optimally at all times. Our qualified HVAC technicians are experienced in servicing split system aircon, multi-split, and ducted air conditioning systems for all major brands. With the use of the latest servicing and maintenance technology and high-quality components, we proudly provide a reliable and cost-effective air conditioning service.
What Is Involved in a Complete Air Conditioner Service?
Each air conditioning system service may differ slightly but regular checks will normally be involved, along with any extra maintenance our skilled air conditioner technicians identify. Regular service checks include:
Examining all system functions
Examining electrical connections
Check the outdoor unit and check the fan are working
Ensuring heating and cooling capabilities are performing
Inspecting airflow
Cleaning filters
Examining gas levels
Air Conditioner Cleaning Brisbane South
In need of a dependable air conditioner cleaning service in Brisbane South? Look no further than All Purpose Trade Solutions. We specialize in comprehensive AC cleaning services that restore your air conditioning system to its optimal efficiency, ensuring the circulation of fresh, clean, filtered air. Our thorough air conditioner cleaning services cater to both residential and commercial clients, all available at budget-friendly rates. Book your appointment today to experience the best air conditioner cleaning service in the area.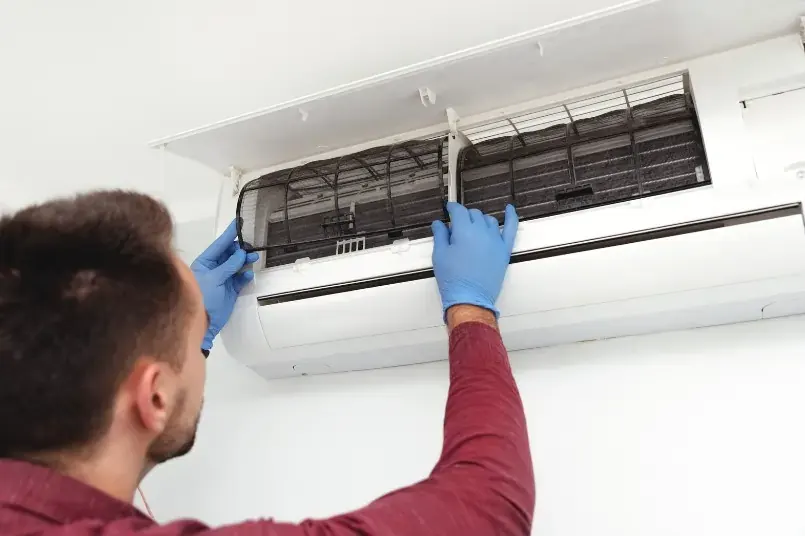 Benefits of having your AC cleaned
Keeping on top of air conditioner cleaning is an important method to look after your aircon, help improve air quality and enhance its overall performance. Not only does it maintain a comfortable environment for your family or customers, but it also works to reduce energy bills and lengthen the lifespan of the unit. Regular cleaning and maintenance can also help to avoid potentially expensive repair expenditures down the line.
Air Conditioner Systems South Brisbane
Air conditioners come in several different types, each with its own characteristics, advantages, and applications. Here are some of the most common types of air conditioners:
Split System Air Conditioner
Split system air conditioners are commonly used for cooling individual rooms or zones and offer a more flexible and energy-efficient cooling solution compared to traditional central air conditioning systems. This AC consists of two main components: an indoor unit and an outdoor unit. The indoor unit is typically mounted on a wall or ceiling inside a room and is responsible for dispersing cool air into the area. The outdoor unit consists of the compressor and other components that release heat from the indoor air into the outdoor environment. The two units are connected by refrigerant lines and electrical wiring, allowing for efficient cooling without the need for extensive ductwork.
Ducted air conditioning is commonly used in larger homes, commercial spaces, or offices where a uniform and integrated cooling or heating solution is desired. It works by cooling or heating multiple rooms or zones within a building through a network of ducts. This AC system offers precise temperature control for different zones, creating a consistent and comfortable indoor environment throughout the building. It consists of a central unit, which is usually located in an inconspicuous area like the attic or a utility room. This central unit contains the cooling or heating components, such as a compressor and a fan, and is connected to a series of ducts that distribute conditioned air to different areas. The ducts are hidden behind walls, floors, or ceilings, and vents or grilles in each room allow the treated air to flow in.
Multi-split system Air Conditioner
Multi-split systems are especially useful for cooling or heating several rooms or areas within a building without the need for separate outdoor units for each space. They offer flexibility, energy efficiency, and the convenience of individualized comfort control. This system comprises multiple indoor units connected to a single outdoor unit. This system allows for individual temperature control in different rooms or zones while sharing the same outdoor compressor. Each indoor unit has its own thermostat, allowing occupants to customize the temperature in each space according to their preferences.
Reverse cycle Air Conditioner
Reverse cycle air conditioners are known for their energy efficiency and versatility in maintaining comfortable indoor temperatures year-round. This system provides both cooling and heating functions using a single unit. It achieves this by using a reversible refrigeration cycle. During hot weather, it functions as a typical air conditioner, removing heat from indoor air and releasing it outside. In cold weather, the cycle is reversed, and the unit absorbs heat from the outdoor air and releases it indoors, effectively heating the space.
We supply, install and service all leading air conditioner brands including:
LG Air Conditioner
Samsung Air Conditioners
Why choose All Purpose Trade Solutions?
At All Purpose Trade Solutions, our foundation rests upon ensuring customer satisfaction, returning customers, and encouraging recommendations. The assurance of our Service Guarantee is aimed at offering you peace of mind as we are committed to delivering exceptional service. The components of our Service Guarantee are:
Quality: We will only use quality products! All the products that we supply will be of the highest quality and be backed by a 12-month warranty.
Answer your calls: We will answer your calls! If for some reason we could not answer your call at that time, please leave a short message and your call will be returned in less than 30 minutes.
Prompt: We will be on time! We always try our hardest to make it to every appointment on time, however, it is the nature of this industry for plenty of surprises to pop up, so if we ever are late, we will take $50 off the quoted price of the job.
Safety: The electrical safety of your home is always going to be of paramount importance. Every job we do, big or small, includes a complimentary visual safety inspection, to make sure you and your family are safe.
Clean: We will clean up after every job and always leave your home the same way we found it, if not better!
Regulations: The electrical work we do complies with all Australian standards and we undertake all mandatory testing requirements on every job where it is necessary. With all of our work comes a limited lifetime warranty.

NOTE: In QLD, it is illegal to attempt work on air conditioning systems without an HVAC qualification and refrigerant handling license. Always seek professional help from qualified HVAC technicians
Your local air conditioning specialists in South Brisbane
For all your air conditioner needs All Purpose Trade Solutions are here to help. We offer a comprehensive range of AC services across Brisbane South. To speak to one of our professional team call 07 3133 1681 or complete our online enquiry form today.
Looking for more than a Air Conditioning in Brisbane South?
We provide additional services in Brisbane South such as Electrician,
Frequently Asked Questions about Air Conditioning experts
Suburbs our Air Conditioning experts Service in Brisbane South
Tarragindi
Durack
Coopers Plains
Cannon Hill
Belmont
Wynnum
Woolloongabba
Mt Gravatt East
Sherwood
Wishart
Sunnybank Hills
Sunnybank
Sumner
Sinnamon Park
Ellen Grove
Seventeen Mile Rocks
Seven Hills
Salisbury
Runcorn
Port of Brisbane
Norman Park
Nathan
Murarrie
Mt Ommaney
Manly West
Eight Mile Plains
East Brisbane
Dutton Park
Doolandella
Corinda
Coorparoo
Chandler
Carindale
Carina
Calamvale
Camp Hill
Westlake
Wakerley
Ransome
Darra
Robertson
Richlands
Rochedale
Manly
Mackenzie
Lytton
Lota
Inala
Highgate Hill
Drewvale
Zillmere
Wooloowin
Chelmer
Burbank
Algester
Tingalpa
Stretton
South Brisbane
Riverhills
Willawong
Balmoral
Wacol
Upper Mt Gravatt
Tennyson
Rocklea
Parkinson
Pallara
Oxley
Mt Gravatt
Morningside
Moorooka
Middle Park
Mansfield
Macgregor
Larapinta
Kuraby
Karawatha
Kangaroo Point
Jindalee
Jamboree Heights
Holland Park West
Holland Park
Hemmant
Heathwood
Hawthorne
Gumdale
Greenslopes
Graceville
Forest Lake
Fairfield
Carina Heights
Bulimba
Acacia Ridge