Your local Kelvinator split system air conditioner installation experts
The Kelvinator range of split system air conditioners offers cost-effective, energy-efficient cooling and heating for your Brisbane home or business. All Purpose Trade Solutions's team of experienced air conditioning technicians supply and install the Kelvinator range to residential and commercial properties throughout the Brisbane, Logan and Redland areas.
Book a Kelvinator split system air conditioner installation today.
Book A Kelvinator Aircon Expert Today
Call us at 0485 869 495 or fill out the form and we will get in touch with you as soon as possible.
The Kelvinator air conditioning range
If you're looking for a top-quality climate control solution for a room or area of your property take a look a the Kelvinator split system aircon range. These durable air conditioners are available in cool-only or reverse cycle models ranging from 2.5kW to 9.0kW.
Wifi connected Kelvinator aircon models
Connect to the Kelvinator Home Comfort App for complete control of your aircon from anywhere using your smartphone or mobile device. The app allows you to easily turn the unit on, ready for your return home, or off when you are out and want to save on energy costs. Simply turn up the cooling without leaving your lounge seat or set a timer to turn the aircon off once everyone is asleep.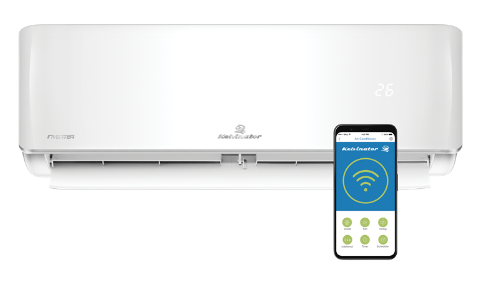 Kelvinator split system air conditioner features include:
Advanced filters for fresh, clean indoor air
DC fan offering increased effectiveness and efficiency
DRED capable - reducing peak power demand on the mains electricity grid
Wireless connectivity
On/off timers
Follow Me command for custom climate control
5-year parts and labour warranty
Energy-efficient inverter compressor technology
The Kelvinator brand offers great after-sales service through the dedicated Kelvinator Customer Care Centre - kelvinator.com.au
Which Kelvinator aircon is right for you?
Choose the perfect Kelvinator air conditioner using the simple tool - kelvinator.com.au Consider factors such as:
room size (㎡)
room aspect - does the room face south, east, north, or west?
ceiling insulation
style of air conditioning cool-only or reverse cycle?
Our air conditioning specialist can provide you with expert advice on selecting the perfect size and model for your home or business.

Professional Kelvinator air conditioning installation services
For the very best in Kelvinator split system air conditioner supply and installation throughout Brisbane, Logan and the Redland area contact All Purpose Trade Solutions at 07 3133 1681 or complete our quick online aircon installation booking request form today.
Frequently Asked Questions about air-conditioning