Your trusted local professional air conditioner cleaners Brisbane
Looking for a reliable air conditioner cleaner in Brisbane and the surrounding areas? At All Purpose Trade Solutions, our team of qualified HVAC professionals clean ducted air conditioning and provide split system air conditioner cleaning to get your aircon working in peak condition for efficiency and clean air.
We provide first class air conditioner cleaning services for both residential and commercial customers, so whatever your air conditioner needs might be, All Purpose Trade Solutions is here to help!
Contact us for the best aircon cleaning Brisbane, Logan, Gold Coast, Sunshine Coast, Moreton Bay and Redland.
BOOK AIR CONDITIONING SERVICE TODAY
Call us at 0485 869 495 or fill out the form and we will get in touch with you as soon as possible.
All Purpose: The best Brisbane air conditioner cleaning services
We offer comprehensive aircon cleaning that will help to ensure your air conditioner is running efficiently, improve your indoor air quality and extend the life of your air conditioner system.
Our experienced team has extensive knowledge and expertise when it comes to air conditioners and we strive to provide the highest level of customer service, so you can have peace of mind knowing that your air con is in safe hands. Book an appointment today for the best air conditioner cleaning service in the area!
Split system air conditioner cleaning
When it comes to properly and professionally cleaning your split system air conditioner, contact the experts at All Purpose Trade Solutions. We can provide you with a deep and thorough clean of your split system air conditioning unit.
This will help your system run more efficiently by eliminating the bacteria, mould, dirt, and debris from all of the filters, fan barrels, coils, and condenser case. Having a regularly scheduled professional clean not only helps to keep your aircon running smoothly but can also help you to avoid expensive repairs that are caused by the build up of dirt, dust, and other harmful allergens in your air conditioner.
An air conditioner service can also help minimise the risk of harmful allergens and dust in your home or office environment, keeping your family and staff safe and healthy. Trust our experienced team to give your air conditioning unit professional clean and have it running like new again!
Ducted air conditioner cleaning
Ducted air conditioners are some of the best investments you can make for your home comfort. A professional ducted AC clean will help to reduce energy bills and extend the lifespan of your ducted air conditioning system.
All Purpose Trade Solutions provide professional ducted air conditioning cleaning services to keep the air quality in your home safe and clean. Through increased efficiency and effective air filter cleaning, our team can help you reduce the cost of running your ducted air conditioner and keep your home and family healthier.
Contact us today and let us help you get the most from your ducted air conditioning system.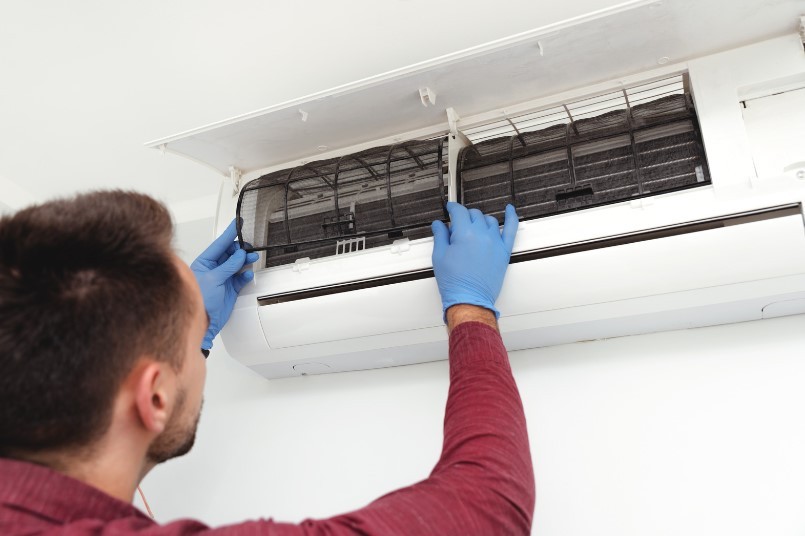 Benefits of having an aircon cleaning service
Keeping on top of air conditioner cleaning is an important way to look after your aircon, improve air quality and enhance performance. Not only does it maintain a comfortable environment for your family or customers, but it also works to reduce energy bills and lengthen the lifespan of the unit. Regular cleaning and maintenance can also help to avoid potentially expensive repair costs in the future.

Air conditioning units are essential in many homes, especially in areas with hot climates, like QLD. However, with the increased use of air conditioners, it is becoming more essential to keep them clean and properly maintained. A thorough air conditioner cleaning can provide improved air quality and help to extend the life of the unit.
Our air conditioning cleaning service helps to ensure that allergens, dust, and other debris are removed, promoting healthier breathing. Regular air conditioner cleaning also helps to keep the evaporator coils operating at their highest efficiency, reducing energy costs while still providing clean, healthy conditioned air. It's recommended to make air conditioner cleaning part of your regular home maintenance.

Air conditioner cleaning is essential to get your air conditioning system working optimally by increasing airflow and enhancing your AC's performance. The presence of dust and dirt can affect the normal working of the cooling system. Using a professional air conditioning cleaner can help in making it more efficient.
As a result, it can improve the climate control experience and make it more comfortable. It can also help bring about the optimum efficiency of the AC, thus ensuring that you will not only be comfortable but will also save on energy bills.

No one likes to pay a high energy bill every month but reducing your power output is easy when you use All Purpose Trade Solutions air conditioner cleaning service. Our highly trained technicians are professional air conditioning cleaners and we always ensure all of your air conditioning systems and ducts are free from dust, debris and dirt that can cause your unit to work harder, leading to an increase in your energy bills.
Our professional air conditioning clean will help reduce energy output and consequently lower your energy bills. With All Purpose Trade Solutions, you can get the efficient and cost effective air conditioner cleaning services that will help you reduce your energy bill.

Air conditioner cleaning is a great way to lengthen the lifespan of your air conditioner. It can be a lot less expensive than having to repair costly damages in the future.
With professional air conditioning cleaner services, you can not only save yourself from spending too much money on repairs, but you can also extend the life expectancy of your AC unit. Investing in air conditioning cleaning can help you avoid common air conditioning problems and have your unit last for much longer.
Signs you need a professional air conditioning cleaning Brisbane
If you're noticing any of the following signs with your air conditioner, it's time to book our professional air conditioner cleaning service:
Unusual sounds or smells coming from your AC
Decreased efficiency and taking longer to reach temperatures
Reduced airflow output
Unusually high energy bills
Don't wait until things get worse, and get a professional AC clean today!
Why choose the All Purpose Trade Solutions air con cleaning team?
At All Purpose Trade Solutions we base our business on customer satisfaction, repeat clients and referrals. Your satisfaction and needs are of high importance to us. That's why we take our customer service so seriously!
We strive to complete any job to the best of our abilities and always provide you with:
Great Price - We offer a fair and competitive pricing structure, with fixed rates for common tasks, no hidden fees and obligation-free quotes
Reliability- We call before the job to let you know we are on the way & we arrive on schedule
Years of Experience - We have over 10 years of experience in the electrical industry
Workmanship Guarantee - We guarantee all our workmanship 100%

Your reliable experts in air conditioner cleaning Brisbane
If you would like to speak to one of our friendly team members about having your air conditioner cleaned, or a maintenance service, call us on 07 3133 1681 or complete our online enquiry form today.
Frequently Asked Questions about air-conditioning