Looking to install a ducted air conditioning system?
Then look no more! We're your ducted air conditioning specialists servicing Brisbane, Gold Coast, Logan, Redland, Moreton Bay and the Sunshine Coast. We supply, install, repair and service all major brands of ducted air conditioning, from Mitsubishi Heavy Industries to Toshiba; from Daikin to Fujitsu, our air conditioning technicians are experienced and confident with them all.
At All Purpose Trade Solutions, we realise that investing in a ducted aircon system for your Queensland home or business is an important decision. Our team of experts take the time to gain insight into your needs and design a customised air conditioning solution tailored particularly to you. So, what are you waiting for? Get in touch today.
BOOK DUCTED AIR CONDITIONING INSTALLATION TODAY
Call us at 0485 869 495 or fill out the form and we will get in touch with you as soon as possible.
How does a ducted air con system work?
For cooling and heating large spaces, ducted air conditioners are an ideal solution. Ducted air con offers a great degree of control over indoor temperatures by allowing for the creation of 'zones' that you can customise to your exact needs - directing only heat or cool where it is required most.
It features both a compressor unit located outside as well as fan coil units installed in ceiling voids with ducted pipes throughout your property allowing you to have cooler or warmer temperatures to only the areas where it is needed.
Benefits of ducted air conditioning
What benefits does ducted air conditioning offer? There are plenty of positives including (but not limited to):
Extremely discreet as ducts are installed in your roof
Zoning areas for a high level of area-specific control
Saves money as ducted systems are generally more energy efficient
Super quiet operation
Added sale value to your property
Installing all leading brands of ducted air conditioners
We install, repair and maintain all leading ducted brands, including:
Keep your home cool and save money at the same time with ducted air conditioning! We have all the top brands of systems available, so you'll get quality products that meet your needs. Maximise energy efficiency while keeping comfortable in every room of your house. Plus, we offer free quotes with no obligation - just give us a call today to find out more.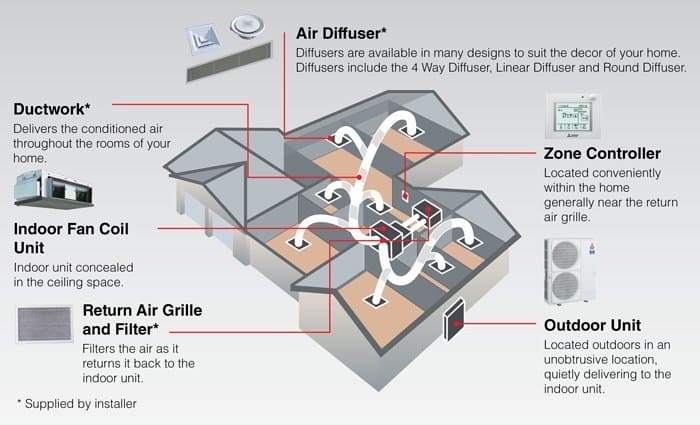 How much does ducted air conditioning cost?
Our HVAC technicians consider a variety of variables prior to being able to provide an accurate quote; such as:
Size and layout of your property
Ceiling size
Insulation
Location
Where the doors and windows are
Controllers and zones required
Brand of aircon system
Installation in an existing property or in a new build
For an accurate quote, call us for a technician to assess your property and the above factors.
Ducted air conditioning repairs & services
With the summer heat and winter chill, it's important to keep your air conditioner running at its optimum. To make sure you stay comfortable year-round, a bi-annual checkup is recommended, with the best time for a service being early spring.
A timely maintenance service ensures that everything runs smoothly and efficiently. The air conditioner services includes:
Cleaning the filters, evaporator coil and the condenser coils
Check heating and cooling functions are running well
Check the level of the refrigerant gas
Check the indoor and outdoor components of the system
Check the drainage
Clean the louvres
Assess the thermostat

Expert ducted aircon HVAC technicians
To book an installation of a ducted system or make an appointment for a free quote, call the All Purpose team on 07 3133 1681 or complete our online enquiry form. We are happy to answer any questions or queries you may have.
Frequently Asked Questions about air-conditioning