Carrier Split System & Ducted Air Conditioning Installation
Need a new air conditioner? Finding a new air conditioner can be challenging with so many brands available in the market. If you are looking for a reliable and pocket-friendly aircon with high performance, then Carrier is a perfect choice. Whether you need a cooling-only model or reverse cycle air conditioner, Carrier is one of the best air conditioning companies in the world.
At All Purpose Trade Solutions, our air conditioning technicians are trained and qualified in Carrier split systems and ducted air conditioning systems. And we can take care of the supply and installation of a Carrier air conditioner.
Get in contact today to book the installation for your new Carrier aircon.
BOOK CARRIER AIRCON INSTALLATION
Call us at 0485 869 495 or fill out the form and we will get in touch with you as soon as possible.
Carrier Split System & Ducted Aircon Installation Brisbane
Carrier is a global innovator in the climate control industry, offering world-changing solutions for residential, commercial and industrial customers. Through its cutting-edge products and services, such as energy-efficient technology, building controls and energy management. Carrier are transforming how homes and businesses stay cool or warm while saving resources efficiently.
Selecting the right air conditioner depends on various factors:
Building design
Ceiling space
Insulation
Size of the area
The climate in your area
Budget
It may seem a lot to consider but we can make the process simple for you. At All Purpose Trade Solutions, we specialise in Carrier systems. We can evaluate all the factors and advise you on the best split system or ducted model and size to ensure the aircon works perfectly.
Carrier Split System Air Conditioners
The split systems offered by Carrier are packed with the latest features and designed for maximum energy efficiency and low operating costs. The range of split systems offered by Carrier includes:
Aura Ultimate Inverter Hi-Wall Split system
Allure Inverter Hi-Wall Split System
Carrier ducted air conditioning
With ducted air conditioning, you can achieve a seamless cooling experience without compromising on the design of your space. The indoor unit is cleverly concealed in the roof and connected to ducts that circulate cool air around your home while an outdoor compressor quietly works outside – allowing for superior temperature control with minimal visual interruption.
Carrier ducted aircon is available in 2 designs:
High static ducted - QSH series
Slimline ducted - QSM series
High static ducted - QSH series
The high static aircon systems are perfect for residential properties where the ducts will run to numerous outlets. Key features of the QSH series include:
Reverse cycle system
Quiet operation
5 year warranty on parts and labour
Air volume technology to ensure optimal airflow
Long ducted connections
High static of 200Pa
Minimum Energy Performance Standards compliant
Optimal drain pump
Slim line ducted - QSM series
The slim line ducted air conditioning system is ideal for commercial ceiling spaces such as apartments, hotels and offices, due to its compact design, which allows for easily concealed installation. The QSM series is extremely simple to use and maintain, which suits any small commercial space. The key features of the slim line ducted system include:
Compact model
Reverse cycle
Quiet operation
5 year warranty on parts and labour
Eccentric fan design for enhanced performance
Static pressure of up to 160Pa
Drain pump included
Air volume technology to ensure optimal airflow
Minimum Energy Performance Standards compliant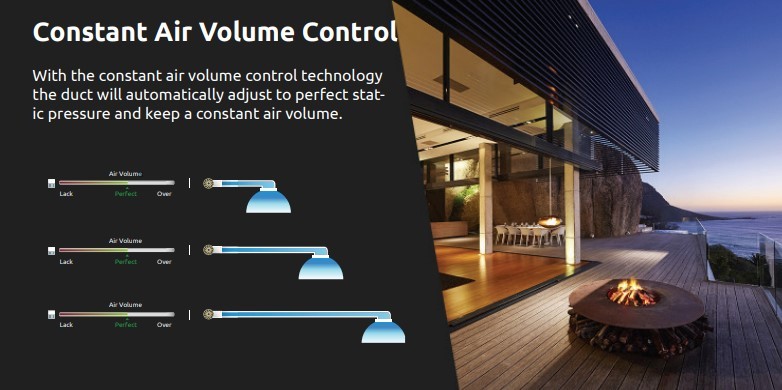 Benefits of Carrier Air Conditioning
Carrier was founded in 1902 and over the last 100 years, Carrier has refined its technology to offer innovative and efficient air conditioners
Rapid heating and cooling function achieves the desired temperature quickly by increasing the power temporarily and then returns to normal power
The air conditioners use smart inverter technology and energy-saving features for maximum efficiency. For example, the Allure series 2.6kW model has an impressive 6.5 ZERL star rating
The self-cleaning feature ensures you breathe healthy air free from allergens, pollens, and microbes
The anti-corrosive coating on the outdoor unit ensures the unit remains free from rust and this feature is quite effective in seaside locations
Follow Me mode senses the temperature around the remote control. The remote control acts as a thermostat and extends the cooling range of the unit
Great reasons to choose our team for your Carrier aircon needs
We specialise in the installation of Carrier split and ducted air conditioners
Our technicians undergo regular training to stay up to date with the latest technology in the industry so we can provide the best services to our clients
We are fully licensed and insured
We ensure our customers are fully satisfied with our work and offer a limited lifetime warranty on our workmanship
We provide no-obligation quotes for our work. Our pricing is fixed and transparent so no bill shocks and nasty surprises when we finish the job


Trusted Carrier Aircon Installers Brisbane
If you are looking for an energy-efficient, cost-effective aircon option, look no further than Carrier. Let us help you with the installation of your Carrier air conditioner. Contact All Purpose Trade Solutions at 07 3133 1681 or complete our online aircon service request form. And our friendly staff will get in contact with you as soon as possible.
Frequently Asked Questions about air-conditioning