Mitsubishi Heavy Industries split system & ducted air conditioning
All Purpose Trade Solutions can help you with the supply and installation of your new Mitsubishi Heavy Industries air conditioners throughout Brisbane, Gold Coast, Logan, Sunshine Coast, Redlands and Moreton Bay regions. We are fully trained and licensed to install the complete range of MHIAA Split Systems and Ducted Air Conditioning units.
Mitsubishi Heavy Industries Air-Conditioners Australia (MHIAA ) is one of the leading suppliers of premium residential and commercial air conditioning systems to the Australian and New Zealand market. Delivering engineering excellence for over 130 years, the Mitsubishi Heavy Industries brand is instantly recognisable for quality and technological advancement.
Book MHIAA Air Conditioner Install Today
Call us at 0485 869 495 or fill out the form and we will get in touch with you as soon as possible.
Features of a Mitsubishi Heavy Industries Split System Air Conditioner
An MHIAA Split System Air Conditioner is comprised of an inside unit and an outside unit called a conditioner and inverter. Both units are easily connected via a set of electrical wires and tubing. Most installations are back to back meaning that the conditioner is mounted on the inside room wall and the inverter is installed on or near the wall outside the room. The majority of conditioner units are sleek in appearance and are mounted high on the room wall. They contain a cooling coil, a blower, and an air filter. The outside inverter units are usually mounted on the ground on the opposite wall to the conditioner. They house a compressor, condenser coil, and expansion coil.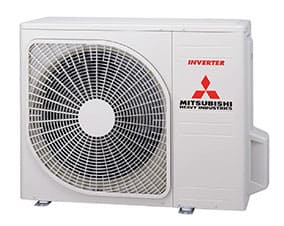 Benefits of a Mitsubishi Heavy Industries Split System Air Conditioner
Inverter technology provides energy-efficient, consistent indoor climate control
Reverse cycle inverter models offer both cooling and heating for all-year-round comfort
Ultra quiet operation- ideal for bedrooms
The outdoor compressor unit can be located on an outside wall, balcony, or tucked away in the garden
Wi-Fi control is available on some models, allowing you remote control of temperature before you get home
Advanced filtration systems ensure the air quality in your home is free of dust, pollen, and foul odours
Installation and maintenance are cheaper than ducted air conditioning
Features of Mitsubishi Heavy Industries Ducted Air Conditioner:
For cooling and heating large spaces, ducted air conditioners are an ideal solution. Ducted air con offers a great degree of control over indoor temperatures by allowing for the creation of 'zones' that you can customise to your exact needs - therefore directing only heat or cold where it is required most. It features both a compressor unit located outside your dwelling as well as fan coil units installed in ceiling voids with ducted pipes throughout your property. These ducted pipes give you the control to have cooler or warmer temperatures specifically where needed.
Benefits of a Mitsubishi Heavy Industries Ducted Air Conditioner include:
Extremely discreet and aesthetically pleasing
Zoning areas for area-specific temperature control
Ducted systems are generally more energy efficient
Super quiet operation
Can increase the sale value of your property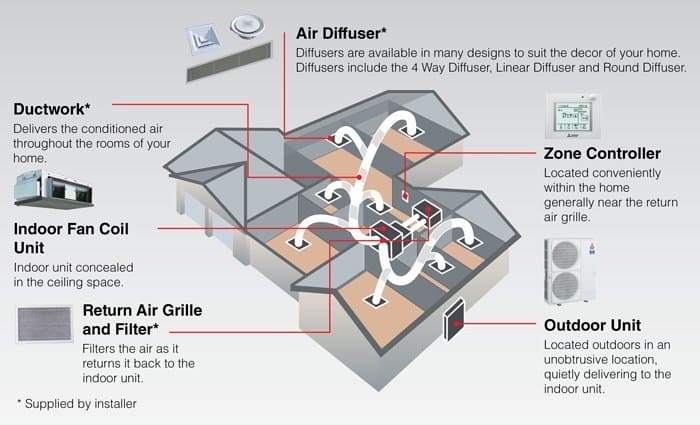 Your local MHIAA Air Conditioner Specialist
If you are still undecided about which AC system is right for you, call the All Purpose team on 07 3133 1681 and speak to one of our experienced technicians. Alternatively, you can fill in our online enquiry form.
Frequently Asked Questions about air-conditioning