Does your air conditioner need repair?
Having issues with your air conditioning system? All Purpose Trade Solutions are your local aircon professionals here to help identify and fix any issues you're having. Whether it's a split system air con or ducted air conditioning, our qualified HVAC technicians will come to you and provide reliable air conditioning repairs.
If your air conditioning has become noisy, smells bad or is not cooling sufficiently, then you know it's time to call in the AC experts! Our skilled technicians will come in and diagnose your air conditioner repairs on site, before providing you with a cost effective and long lasting repair. Don't wait any longer, contact us today for your air conditioning repairs Brisbane, Gold Coast, Sunshine Coast, Logan, Moreton Bay & Redlands.
BOOK AIR CONDITIONING REPAIRS TODAY
Call us at 0485 869 495 or fill out the form and we will get in touch with you as soon as possible.
Signs Your Air Conditioner Needs Repairs
Signs that your air conditioning may need repairs can vary depending whether you have a split air conditioner unit, ducted aircon, multi-split and the model.
If you notice any of the following signs that your aircon needs repairs, or suspect any other issues with your cooling system, contact the professional HVAC technicians at All Purpose Trade Solutions to diagnose and address the problem effectively.
Warning signs that your AC requires repairs:
Unpleasant smells
Insufficient cooling
Strange noises
Reduced airflow
Regularly turning itself on and off
Water leaks
Substantial increase in your energy bills
Reduced air quality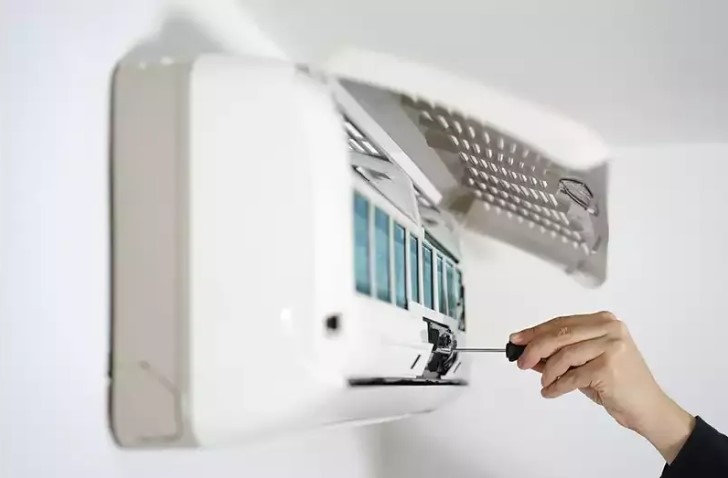 The Benefits of Air Conditioning Repairs
Aircon repairs can provide many benefits and by addressing issues promptly, you can avoid costly major repairs or even a replacement of your existing aircon system! The benefits of having an air conditioning system performing to its optimal include:
Improved energy efficiency
Lower electricity bills
Better air quality
Extend your air con's lifespan
Reduce cost of repairs if issues are addressed promptly
Repairs avert breakdowns & the necessity of replacing your air conditioner
Tips for Maintaining Your Air Conditioner
Maintaining your air conditioner properly is essential to its performance, energy efficiency and durability. You can avoid expensive repairs by following a few easy tips.
Here are a few essential tips to maintain your air conditioner:
Regularly clean the air filter
Keep the outdoor unit clean from dirt, leaves etc
Make sure there are no obstructions near the vents as this can restrict airflow
Schedule regular professional maintenance service on an annual basis
If you hear any unusual noises, odours or changes in performance of your air conditioning system, contact us to schedule an appointment with a qualified HVAC technician
Commercial Air Conditioning Repairs
When it comes to keeping personnel comfortable and productive in the workplace, it is essential to ensure that the air conditioning system is up to the job. Commercial air conditioning units need to undergo regular maintenance and repairs in order to ensure they are running as efficiently as possible.
Our skilled HVAC technicians specialised in diagnosing and repairing complex commercial air conditioning system problems swiftly so that minor issues don't become major ones!
With experience in servicing and repairing a wide variety of air conditioning systems, we can diagnose and repair the problem quickly and efficiently, helping your business save money in the long run by avoiding costly operational interruptions and downtime.
Air Conditioning Brands We Repair & Service
We are experienced in providing maintenance air conditioning services and repairs to all types of air conditioning systems including split system, ducted aircon, multi-split systems and reverse cycle air conditioning units.
Our technicians at All Purpose Trade Solutions share vast experience repairing all major air con brands including:

Your Local Brisbane Air Conditioning Repair Specialists
To schedule an appointment with your local air conditioning repair technicians, or discuss maintenance and repairs for your air conditioning system, call our friendly team on 07 3133 1681 or complete our online enquiry form.
In QLD, it is illegal to attempt work on air conditioning systems without a HVAC qualification and refrigerant handling licence. Always seek professional help from qualified HVAC technicians
Frequently Asked Questions about air-conditioning