Expert Ducted Air Con & Split System Air Conditioning Installers Brisbane
Here at All Purpose Trade Solutions, we pride ourselves on supplying high quality air conditioning systems and expert installation services for both residential and commercial properties.
At All Purpose Trade Solutions, we understand that finding the perfect air conditioning system to suit your needs is crucial. That's why we collaborate with industry leading brands such as LG, MHIAA, Daikin, and Fujitsu, to provide you with a wide selection of the best air conditioners available.
Whether you're seeking a split system for individual room cooling or a ducted system for comprehensive climate control, we have the ideal solution for you!
Book Aircon Installation Today
Call us at 0485 869 495 or fill out the form and we will get in touch with you as soon as possible.
Queensland's #1 Air Conditioning Installation Services
Our team of highly skilled HVAC technicians excel in delivering professional and meticulous installation services. We take the time to assess your space, understand your requirements, and recommend the most suitable air conditioning system for optimal performance and energy efficiency. With our expertise, we ensure that every installation is carried out with precision and attention to detail, guaranteeing reliable operation and long lasting performance.
Types of Air Conditioning We Supply & Install
All Purpose Trade Solutions are proud to offer a wide range of air conditioning systems that are tailored to the needs and preferences of our valued clients across Brisbane, Gold Coast, Logan, Redlands, Moreton Bay and Sunshine Coast.
Our team is highly skilled and specialised in providing and installing various types of aircon systems. This ensures maximum comfort and satisfaction. We offer the following systems:
Split System Air Conditioning
For individual rooms or small spaces, split systems are an excellent choice. Split aircon systems consist of an indoor unit that delivers cool air into the room and an outdoor unit that dissipates heat. With their energy efficiency, quiet operation, and flexible installation options, split systems are extremely popular.
Ducted Air Conditioning
When it comes to larger areas or multiple rooms, ducted air conditioning provides comprehensive cooling. Ducted AC utilises a network of concealed ducts within walls or ceilings to evenly distribute cool air throughout the space. Ducted systems offer precise climate control, allowing you to create different temperature zones and adjust airflow to suit your preferences.
Multi Split Air Conditioning
Ideal for cooling multiple rooms or areas with varying cooling requirements, multi-split systems feature multiple indoor units connected to a single outdoor unit. This setup enables independent temperature control in each room, providing flexibility, energy efficiency, and personalised comfort.
Reverse Cycle Air Conditioning
For comfort all year round, reverse cycle air conditioners are an excellent choice as they offer both cooling and heating capabilities, allowing you to maintain a pleasant indoor environment regardless of the season. By seamlessly switching between cooling and heating modes, reverse cycle air conditioning ensures efficient climate control throughout the year.
All Purpose Trade Solutions takes great pride in offering air conditioning systems of the highest quality from trusted brands. Our team of experienced HVAC air conditioning technicians will assess your needs, provide expert advice, and recommend the system that best suits your requirements.
We always prioritise customer satisfaction and ensure that every installation is performed with precision and care, guaranteeing optimal performance and long term reliability.
Installation of Market Leading Air Conditioning Brands
We provide split system, multi-split system, reverse cycle and ducted air conditioning installation for all the leading brands including:
All Purpose Trade Solutions takes great pride in providing air conditioning systems that are of the highest quality and sourced from trusted manufacturers. Our experienced team of aircon technicians are dedicated to understanding and meeting your individual needs. We will provide expert advice and recommend the best system for your specific requirements.
We guarantee all installations will be done with precision and care. We strive to provide not only the best performance, but also reliability over time so that you can continue to enjoy your air conditioner for many years.
Commercial Air Conditioning Installation
All Purpose Trade Solutions specialise in professional commercial air conditioner installation. Our team of experienced professionals is well equipped to handle any project, regardless of size or complexity.
Design and Consultation
Our commercial aircon experts will work with you closely to understand your needs and design a commercial air conditioner system that suits your requirements. We offer comprehensive design and consulting services to ensure maximum cooling efficiency.
Air Conditioning System Selection
Our wide selection of commercial air conditioners from leading brands is designed to fit a variety of commercial settings. Our technicians will assist you in selecting the best system for your needs based on factors like the size of the room, the number of occupants, the ventilation requirements and the energy efficiency goals.
Efficient Installation
Our technicians use industry leading techniques and best practices to install your system correctly and efficiently. We aim to minimise any disruptions to your business by paying attention to the details and precision.
Ductwork & Ventilation
A properly designed ducted air conditioning system and proper ventilation is crucial to cooling commercial spaces effectively. Our team will design and install a ductwork system that ensures optimal airflow, and the distribution of cool air in your building. We provide ventilation solutions that maintain a healthy and fresh indoor air environment.
Compliance & Regulations
We are aware of the importance of adhering to industry regulations and standards. We provide installation services that meet all required guidelines and certifications. This gives you peace of mind knowing your commercial air conditioning systems are installed safely and correctly.
We offer support and maintenance after the installation to ensure longevity and performance. Regular maintenance, tune ups and prompt repairs can help maximise efficiency and minimise downtime.
At All Purpose Trade Solutions, we always strive to provide exceptional commercial air conditioning installation services. You can rely on us to create an environment that is comfortable and productive for your commercial space.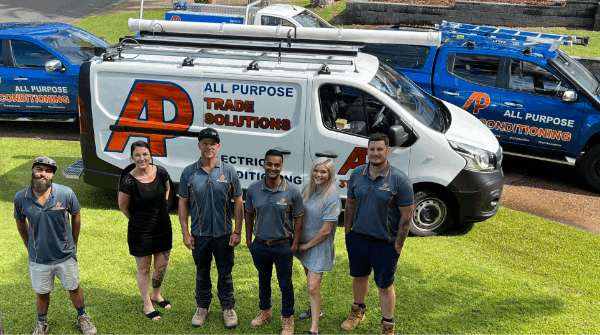 Why choose the All Purpose Trade Solutions Air Con Installation team?
When you choose All Purpose Trade Solutions for your air conditioning supply and installation needs, you can expect exceptional customer service, expert guidance, and reliable solutions tailored to your specific requirements. We are committed to providing you with a comfortable indoor environment, no matter the season.
Experience the difference of working with a trusted provider of air conditioning supply and installation services. Contact All Purpose Trade Solutions today to discuss your needs and let us help you find the perfect air conditioning system to create the perfect climate in your residential or commercial space.

Your local reliable aircon installation experts Brisbane
If you would like to speak to one of our friendly team members about having an aircon installed in your home or business, or would like to know about any other service All Purpose Trade Solutions provide, call our team today at 07 3133 1681 or fill in our online enquiry form.
Frequently Asked Questions about air-conditioning